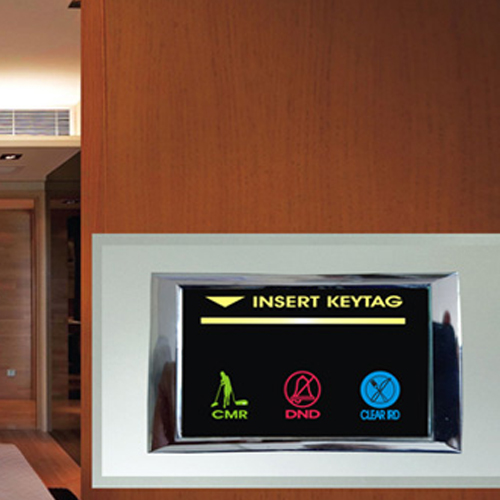 Luxon Hotel Energy Saver
Key Tag holder system is capable of activate & deactivate the power inside room using simple key tag.
Capable of handling up to 30A of load in a single circuit.
Provides 15sec delay after removal of key card from its holder to switch of entire room power. this ensures the gust gets sufficient time to lock and leave the room before darkness.
Provides a smart illuminated key card insertion pocket to get exact location of key card insertion point in the darkness. The upper part of key card holder shows a live breathing silent text message "INSERT KEY TAG" to guide the guest to enable power
capable of detecting Gust & Staff. With STAFF CARD entry, it automatically blocks A/c, TV, Massage Chair and other amusements connected to ENERGY SAVER inside the room
incorporated with service call switches which enables the guest to make "SERVICE CALLS"
The CORRIDOR PANEL shows the status outside the room (GUST / STAFF, CLEAN MY ROOM, DO NOT DISTURB AND LAUNDRY/CLEAR IRD)